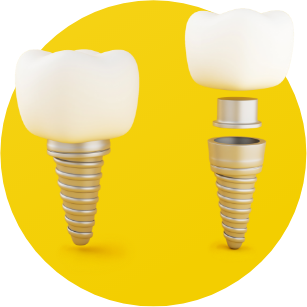 Treatment Services
WHEN IT'S APPROPRIATE TO HAVE DENTAL IMPLANTS?
Most patients with missing teeth would benefit from having dental implants, but there are some qualifications you need to have in order to be an appropriate candidate, including healthy gums, good oral hygiene and at-home care, sufficient bone tissue in your jaw and be a non-smoker.
WHAT IS INVOLVED IN DENTAL IMPLANTS?
Your dental implants are installed in three separate phases. During the first phase, your dentist places the implants in your jawbone. This involves a quick and easy procedure where your dentist makes a small incision in your gums, drills a hole in your jawbone, and inserts the implant.
During the second phase, called osseointegration, you spend your time healing and letting your jawbone fuse with the implant. This phase can take anywhere from two to four months.
Once your implant and jawbone have fused, you come back to the office for your final phase: placing the restoration.Read more about dental implants.