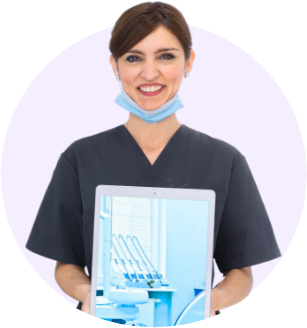 Meet our Team
Our Dentists in Pasadena
Dr. TED Baghdasarian
DENTIST IN PASADENA
Dr. Ted Baghdasarian is a graduate of the prestigious UCLA School of Dentistry. Each year, nearly 10,000 applicants apply to the UCLA School of Dentistry, of which merely 88 very highly qualified candidates are selected to matriculate and become Doctors of Dental Surgery at this distinguished University of California state health care training facility considered by US News & World Report as the "Best in the West" and in the Top 8 nationwide.
Dr. Ted Baghdasarian completed his training and upon graduating was one of a small group of graduates that was able to complete his state licensure to practice as a Doctor the same year he graduated by completing the Western Regional Board Examination successfully. After Licensure, he moved on and participated in surgical training within an Oral/Maxillofacial Residency training program during which he gained invaluable experience in all aspects of outpatient oral surgery treating medically compromised patients. He has since been in practice as a Doctor of Dental Surgery all over southern California treating patients in clinics ranging from working class neighborhoods such as Hawthorne, all the way to the glamorous streets of Beverly Hills, gaining experience with a wide range of oral health related ailments for the past 8 years.
Rest assured, here at Genesis Dental Esthetics, the Doctor and staff are fully committed to treat each patient with the utmost respect and the highest standard of care. Whether you are receiving a simple examination and cleaning or being treated for severe toothache and infection, you can feel confident that the Doctor and staff have the knowledge, skill, and compassion to bring you back to a healthy state. We look forward to meeting you!
Dr. Bilyana McLeod
DENTIST IN PASADENA
Dr. McLeod received her Doctor of Dental Surgery from USC School of Dentistry and is passionate about providing a positive painless treatment experience with all of her patients and treating each and every patient with kindness and compassion.
Dr. McLeod's expertise in many aspects of cosmetic dentistry make her an invaluable part of the Genesis Dental Esthetics team. She has extensive experience in cosmetic treatments using high level magnification techniques and is certified in clear aligner orthodontics.
During her time at USC, Dr. McLeod became a recipient of the Rex Ingraham Award for excellence in operative dentistry for her high level of skill and was also inducted as a member of the Academy of General Dentistry. She is also certified in Basic Life Support (BLS), Advanced Cardiac Life Support (ACLS), as well as Pediatric Advanced Life Support (PALS).
Request an
appointment
Fill out the form to schedule your dental appointment with our dentist in Pasadena.
200 S El Molino Ave #2, Pasadena, CA 91101
Contact@GenesisDentalEsthetics.com
Tel: (626) 314-3550
Fax: (626) 314-3552
Working Hours
Monday to Friday: 9am to 6pm
Saturday: 10am to 3pm
Sunday: Closed