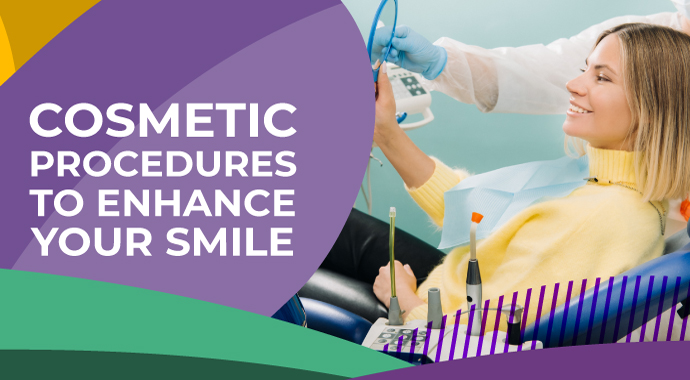 Cosmetic Procedures to Enhance Your Smile
Your smile is your most important asset. It's the first thing people see when they meet you, and it can make or break a first impression! Cosmetic procedures to enhance your smile are designed to help repair teeth that have shifted out of place, repair misshapen crowns that might be crowding other teeth or correct gaps in between teeth that can trap food particles and lead to dental decay. But what kind of procedures are available to you? In this blog, we will go through two of them: veneers and dental implants.
Dental Veneers - A Minimally Invasive Procedure
Dental veneers are typically thin shells of porcelain made to cover the front surface of the teeth. They provide a noninvasive alternative to permanently changing the shape, size, or color of a patient's teeth. Dentists can use these shell-like structures to conceal stains, chips, and other damage caused by trauma or aging without having to pull out the tooth. Dr. Ted Baghdasarian, our dentist in Pasadena, uses veneers to restore an aesthetically pleasing, whiter appearance to your teeth, helping you feel more self-assured about your smile!
Dental Implants - Perfect for Missing Teeth
Implants are "anchors" for replacement teeth that look and function just like natural teeth. The person receiving the implant has a dental procedure where the implant is placed into the jaw and allowed to heal for up to six months, during which time a temporary replacement tooth, or "prosthesis," may be attached. Dentists use this process because it provides excellent stability, comfort, and a very natural appearance and feel. Our dentists in Pasadena can help you with the proper procedure that would best meet your needs.
Do you need any one of these procedures? Genesis Dental Esthetics is happy to provide you with an excellent cosmetic dental experience! We offer individualized attention for each patient, understanding that everyone has different needs. Dr. Ted Baghdasarian can help you understand if this type of dental care is right for you.
Contact Genesis Dental Esthetics by calling today! (626) 314-3550 We have a wonderful dental care team that can help you feel more confident about your smile!
---
Back to Articles