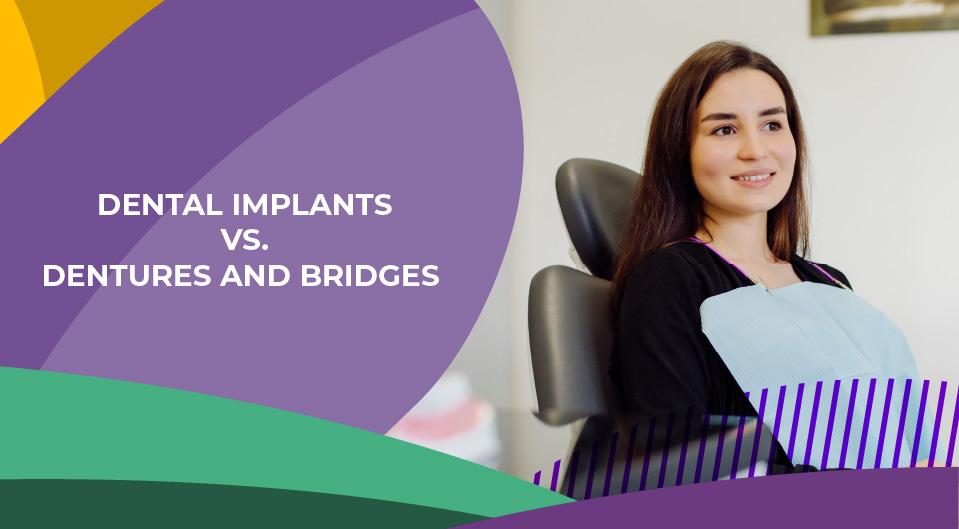 JUNE 30, 2021
BY DR.BAGHDASARIAN
Dental Implants vs. Dentures and Bridges: Which is Better?
Our teeth are not only crucial for allowing us to give us a beautiful smile; they are equally essential for allowing us to eat and speak without difficulty. Loss of a single tooth can have a significant effect on our oral and physical health. That is why dentists recommend getting your missing teeth replaced as soon as possible.
When we talk about replacing missing teeth, there are three main options: removable dentures, teeth bridges, and dental implants. But "which tooth replacement option is the best?" you might ask. Don't worry; this article provides an overview of the characteristics of tooth replacement options so you can make an informed decision.
1. Service Life

When it comes to durability, dental implants are the best. According to the American Dental Association, dental implants can last for a lifetime if they are looked after properly. On the other hand, removable dentures require frequent repair or replacement, while the teet bridges only last for about five to seven years.

2. Comfort and Convenience

Your Pasadena dentist may ask you to avoid hard and sticky foods if you have dentures or teeth bridges, as it can lead to their dislodgement. Besides, removable dentures are uncomfortable to wear and tend to slip easily. This problem has been eliminated with implants. Since they are firmly anchored within the jawbone, they firmly support the artificial teeth, allowing you to eat and speak without difficulty - just like your normal teeth.

3. Esthetics

When it comes to esthetics, dental implants offer the best esthetics among all tooth replacement options. This is because the removable dentures often get stained very easily. On the other hand, esthetically pleasing and natural-looking zirconia crowns are attached to the implants that restore your smile and facial esthetics.

4. Safety

Many people are allergic to the metal alloys or acrylic resins used in removable dentures and bridges. The dental implants are made from high-quality titanium alloys that are completely safe for use in the human body and carry no adverse effects.

5. Tooth and Bone Conservation

Since the removable dentures rest on the oral soft tissues and the underlying jawbone, they can lead to significant bone loss over time - making our jawbones weak and prone to fracture. Similarly, bridges require the removal of healthy tooth structures from the neighboring supporting teeth. Dental implants do not require any tooth preparation and do not cause bone resorption. Instead, they have a unique capability - known as osseointegration - in which they promote bone formation around them, thereby preventing bone loss.
When it comes to replacing missing teeth, there is no option better than dental implants. If you are looking for the best Pasadena Dentist for getting dental implants, look no more! Book an appointment with Dr. Baghdasarian at Genesis Dental Esthetics by calling (626) 314-3550 and get a fully functional set of implant-supported teeth that look, feel, and function just like natural teeth.
---
Back to Articles